Organizations come in all shapes and sizes. Charity, education, retail, financial, industrial, creative — they're all completely different, right?
Wrong.
When it comes to organizational change, they're exactly the same.

We're going to look at change management process flow examples from different industries. We'll discover that, when it comes to behavior change, they all follow the same basic flow.
Change management process flow

—

in education
This example of the change management process flow is for an educational organization.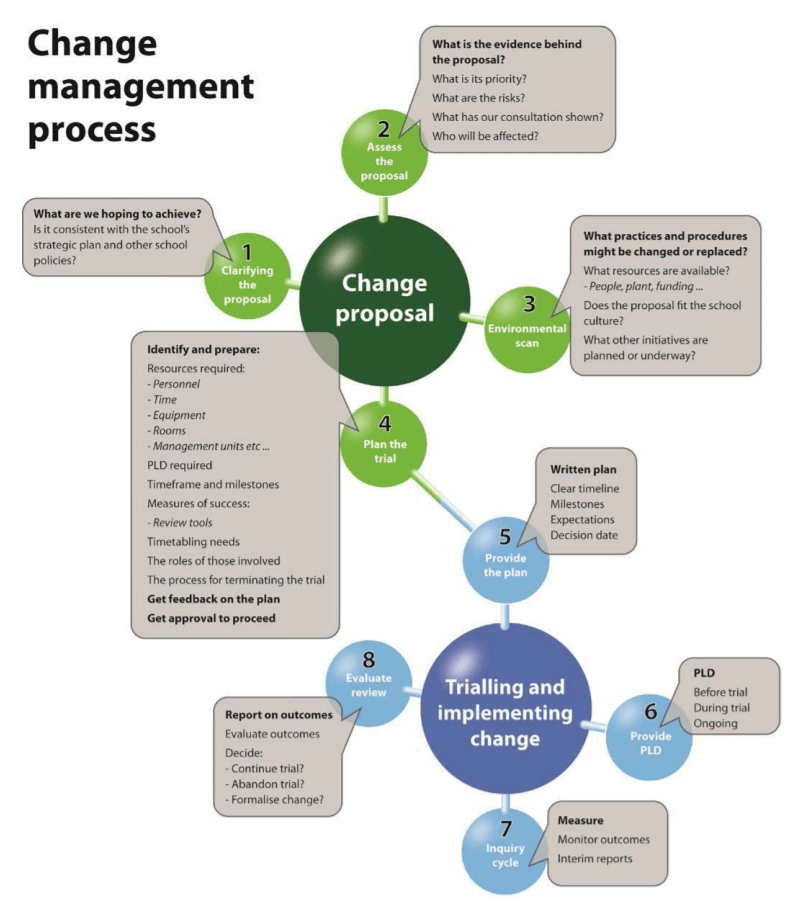 Image source: PPTA
It outlines industry specific considerations at each step of the process. However, this change management process flow also easily aligns with Lewin's theoretical model for organizational change.
In fact, any change initiative could follow Lewin's three stage flow. This could form the basis of your transformation initiative, whether you work in education or retail.  
Image source: Principles of Management
As far as a flow is concerned, there are processes within each of Lewin's three stages. I break these down further in an article about Lewin's change theory model.
Change management process flow

—

in retail
Mary Freeman writes for Cisco:
"To make digital transformation work for your retail company, it can't just be an IT project."
It needs to be approached as an organizational or cultural change.
Freeman's guidance to retail executives is as follows.
Gain executive buy-in

Take a programmatic approach

Don't neglect training

Consider incentives
So, change managers and retail executives need to consider these four points. But that doesn't mean you can't use a generic template for your retail transformations. This one is based on Kotter's 8 steps to change model.
Image source: Kotter Inc
This is also a helpful 5 stage process flow for change management.
Image source: Shadrok Global Business Solutions
These five stages can easily be applied to retail organizations, financial institutions, not-for-profits, or the hospitality sector.
Why? Because all organizations are made up of people. And people's resistance is one of the biggest barriers to change.
Change management process flow

—

in hospitality
This flow diagram is a helpful starting point for changes within your hospitality business.
Image source: Tricordant
Fundamental to the success of every stage in this flow — and all the other flows we've looked at — is the vision for change.
Hospitality managers spearheading transitions must be clear on desired outcome and its benefits. Otherwise, you won't win over stakeholders.
One way to clarify the vision is to go through the 4P's of change. By asking yourself these questions, you can feel confident and prepared.
Purpose: What is the reason for/background to this change? What are the benefits?
Picture: What will things look like after the change? What would be the risk of not doing it (the "burning platform")? Restate the benefits.
Part: What's my part in the change? What do you expect me to do?
Plan: What's the timeline? What are the key milestones? How is it all going to work?
The ultimate change management process flow
In reviewing the above theories and processes, I've developed the ultimate change management process flow.
PART 1: CHANGE PROPOSAL
IDENTIFY THE CHANGE
Begin with a needs assessment and the 4 P's of change. You must support your change proposal with evidence.
↓
OUTLINE THE DETAILS
Who is this change affecting? What levels will the change impact? IT systems? Organizational hierarchy? Departmental processes? What are the costs and implications? What do you need from the organization to successfully put this change in place?
↓
PART 2: TRIALLING & IMPLEMENTING CHANGE
(A. UNFREEZE: Contract and engage for change)
STEP 1: Establish a sense of urgency
Remember, people are naturally resistant to change. What are the benefits?
↓
STEP 2: Build guiding coalition
You need support for the change at all levels of the organization.
↓
STEP 3: ESTABLISH THE APPROACH – create the vision and strategy
Use the work you did on the 4 P's of change.
↓
STEP 4: Communicate the change vision
An army of volunteers can help you communicate the change vision to stakeholders.
↓
(B. CHANGE: Deliver and make change stick)
STEP 5: IMPLEMENT – empower or enable action
Put plans in place for every aspect of the change, including communications, training, and review.
Also, you must ensure that the organization is prepared for the change. There are no barriers to the change, nor conflicting behaviors or procedures.
↓
STEP 6: Create short-term wins
Remember to celebrate success to maintain high motivation.
↓
STEP 7: MONITOR – consolidate gains
Measure, monitor, evaluate. This is how you can be sure of success.
Monitoring and evaluation will enable you to anchor new positive behaviors into culture. You'll also be able to catch old habits before they threaten the entire change process.
↓
(C. REFREEZE)
STEP 8: Anchor into culture
Don't rush into this step. It takes time to form new habits. Only when the old habits seem out of place can the new behaviors become ingrained in culture.
Conclusion
So, you see, it really doesn't matter what your organization is or does. This change management process flow can be applied to them all.
The step by step flow is generic. What is unique is how you engage with stakeholders to win them over.
The mere fact that you have a change management process flow will help you execute the change. One interesting technique is to share your flowchart with the organization, so everyone feels included in the process.
WalkMe spearheaded the Digital Adoption Platform (DAP) for associations to use the maximum capacity of their advanced resources. Utilizing man-made consciousness, AI, and context-oriented direction, WalkMe adds a powerful UI layer to raise the computerized proficiency, everything being equal.