Videos and images are said to be worth more than words itself. They're the best way to learn, and you are more likely to relay something you saw in an image than something you spent ten minutes reading.
Enjoy these infographics and videos on change management, which I believe will teach you more than any article could!
Here, the Katzenbach Center perfectly demonstrates how culture effects organizational change. It shows that 84% of people believe culture is critical to business success, but only 35% think their company's culture is effectively managed.

"60% think culture is more important than strategy or operating model."I this isn't proof of culture's importance, I don't know what is.
This infographic presents the importance of who is driving the change, as well as why employees may resist change. These prevent the change from being effective and lasting long enough to achieve the long term benefits.
This is one of my favorite infographics by Torben Rick. I have always imagined the most peaceful place to be would be at the top of an iceberg, so this representation is perfect to guide you to a peaceful change management. On the surface you have all the typical aspects: goals, shared values, and vision. Underneath we have the more fundamental aspects which create the organization's culture such as, beliefs, feelings, and traditions.
Understanding these factors and how they work together will affect your strategy.
Kotter's change model is designed to simplify the long and stressful change process, and it helps make the whole process easier for managers. This video outlines all the key steps and tips to implement the best strategies efficiently. His tips will help in the short-term, as well as the long-term changes for you and your organization as a whole.
How to be a change management champion? Everybody wants the answer to this question… well MTD's infographic answers just that.This infographic presents the key tasks you need to perform to implement change effectively.
My favorite being: encourage – you must encourage employees in order to achieve better results. Communication alone is not enough. Guide your employees with the guidance they seek.
 Change is a large part of everyone's life and no one is under the illusion that it's easy. We have to learn how to deal with it and achieve it in the most efficient and effective way.
TED Talks are a great way to learn from professionals, and in this great video Mark Mueller-Eberstein discusses the 'Theory of Transition,' where we deal with the emotions of denial, anxiety, fear, confusion, etc. This eventually leads us to discover new opportunities in the transition where we begin to be excited and strive for change; not only for ourselves but everyone around us. This transition is unique and one must first identify the vision and be clear how to impact, communicate, team-up and lead in order to achieve their change goal.
Some think managers and leaders are one in the same, but in while they both occupy positions of power, the key roles they hold are different.
Managers are more fixed, focusing on the task at hand until it is complete and measuring results in terms of efficiency. Leaders are more flexible, putting their focus on inspiring, empowering, and satisfying the group.
Managers are usually appointed, while leaders tend to emerge naturally.
This infographic reminds us that not every leader is a manager, but every manager has to show leadership.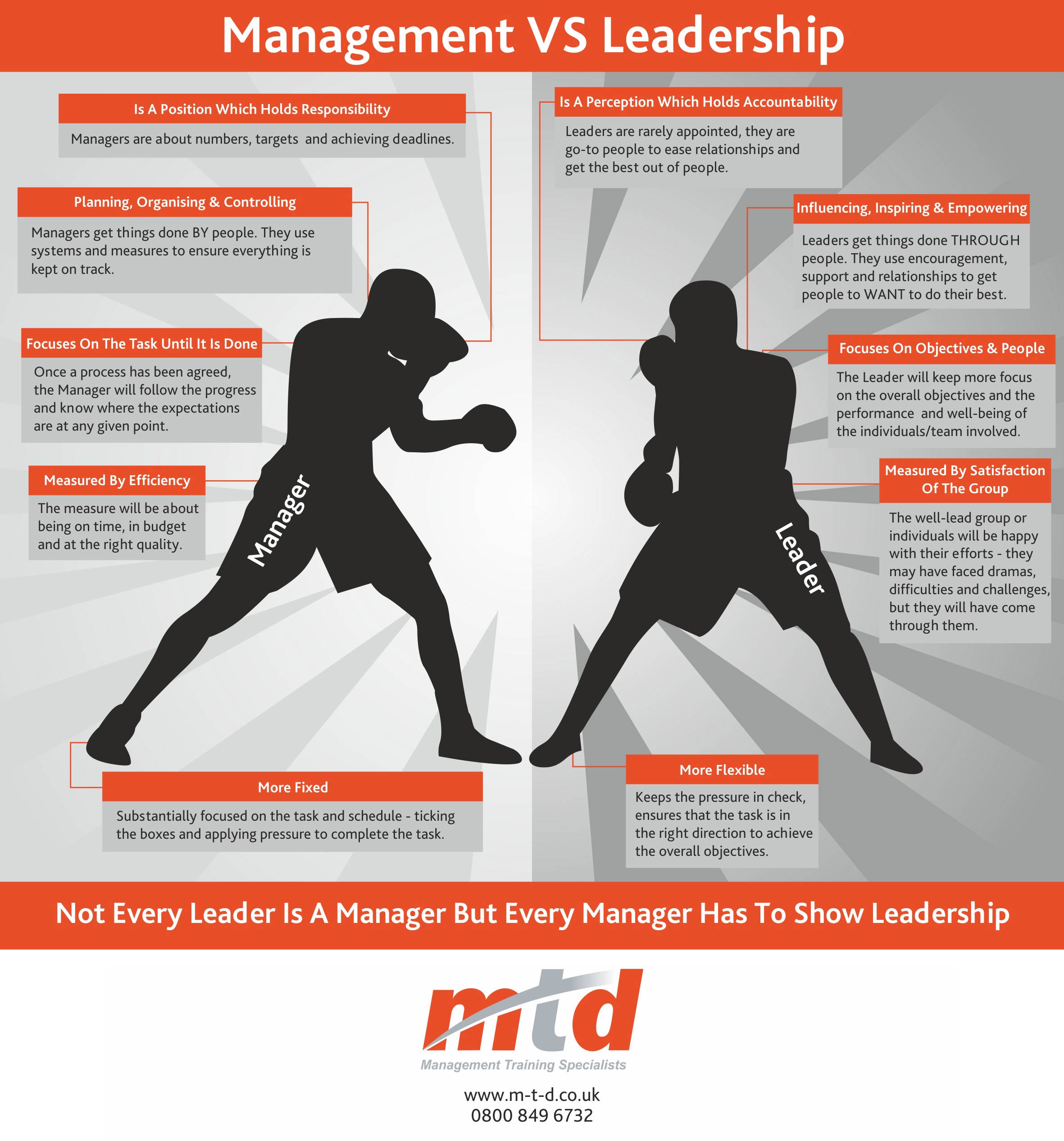 This video with Rosabeth Moss Kanter demonstrates six key ways to lead positive change.
They include the following: show up – if you don't show upnothing will happen, speak up and use the power of voice, look up, team up, never give up, and lift others up.
Another great TED Talk video to help learn from the experts.
This infographic by knoll.com is a simple representation of a start to finish process for helping employees adapt to workplace change management. The timeline provides you with the guidance to lead your organization through change in the easiest way, and ensures the least chance of resistance.
The fact that you're reading this to enough for me to assume you are probably on a social media platform right now. Whether it's Facebook, Twitter, or Instagram, social media is present everywhere and is becoming more and more influential and useful to organizations.
This infographic by Torben Rick puts the aspects of social media and change management together to point out its usefulness as a tool one should take advantage of to promote and monitor change processes.
Ten top ways social media can improve your change management process… you will be surprised athelpful these can be!
WalkMe spearheaded the Digital Adoption Platform (DAP) for associations to use the maximum capacity of their advanced resources. Utilizing man-made consciousness, AI, and context-oriented direction, WalkMe adds a powerful UI layer to raise the computerized proficiency, everything being equal.