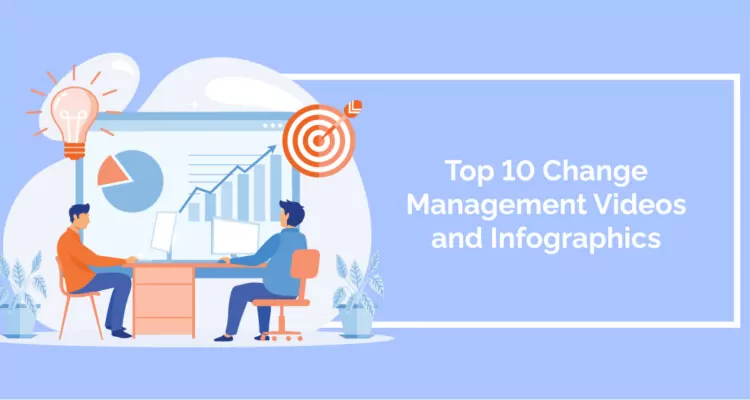 If you want to help your staff understand change processes, learn best practices, and develop key skills, change management videos and infographics might be the best way to do it. 
Change management videos aren't the only way to share knowledge in an organization. But leveraging video can be far easier than other media formats, especially in a busy business environment. The flow of a short film can appeal to people in a hurry: and for people who prefer learning visually, there's nothing better. 
Ultimately, the training videos that actually get watched have some features in common: they should have a clear audience, a strong narrative, high production values, and be easily accessible. That's why we will introduce ten of the best change management videos (and infographics) in this article. It can be hard to know where to find the best examples of training material – but fortunately, we are putting them all within your reach. 

We'll start by explaining why change management videos are important. Then, we'll work through our choice of the top ten resources. 
Why do we need change management videos?
Videos and infographics are just one part of a big body of writing and communication about change management. Regular readers of our pages will know that gathering information about change management is a serious business. For example:
If you've been keeping up, you'll know that there are many fundamental

change management methodologies

out there to guide and direct your organization. 

Yet however influential those methods are, they are continually updated through deep and thoughtful

change management research

. That research is constantly being updated – and it takes a lot of work to stay current! 

As the world changes, gathering and reviewing change management statistics is important. Statistics are sometimes interesting but always powerful, and you should pay attention to them. 
In this complex landscape of advanced change management material, videos, and infographics don't explain the hardest ideas.
So, why bother with them?
Video and infographics are extremely useful tools for change management training strategy for employees. Communication about change is almost always a core element of a change management strategy. At any company level, videos and infographics can make that communication quick, simple, and effective.
So, videos aren't the only guidance you need to manage a change project. But if you and your colleagues are running short of time (and who isn't?), short videos are a surefire way to captivate your colleagues.
Video: What is Organizational Change Management?
Regarding content creators in this niche, Eric Kimberling is the leader of the pack. 
Although Kimberling sometimes posts videos about very niche topics (ERP implementation, anyone?), he always tries to make the subject matter easier for an outsider to understand. He's speaking with the voice of practical experience: with 20 years of expertise behind him, very few people can claim to be so authoritative. 
So, this is an excellent introduction for anyone new to change management. But it is also suitable for senior leaders who want to refresh their knowledge of this crucial area. 
https://www.youtube.com/watch?v=Ir_7a3fgpFQ
Infographic: Why Culture Matters and How it Makes Change Stick
Here, the Katzenbach Center perfectly demonstrates how culture affects organizational change. It shows that 84% of people believe culture is critical to business success, but only 35% think their company's culture is effectively managed.
"60% think culture is more important than strategy or operating model." If this isn't proof of culture's importance, I don't know what is.
This infographic presents the importance of who is driving the change and why employees may resist change. These prevent the change from being effective and lasting long enough to achieve long-term benefits.
Infographic: The Iceberg that Sinks Organizational Change
This is one of our favorite infographics by Torben Rick. I have always imagined the most peaceful place would be at the top of an iceberg, so this representation is perfect for guiding you to soft change management. On the surface, you have all the typical aspects: goals, shared values, and vision. Underneath are the more fundamental elements that create the organization's culture, such as beliefs, feelings, and traditions.
Understanding these factors and how they work together will affect your strategy.
Video: How to lead with the heart 
This video features Liz Theophille, a Senior IT leader, who explains her approach to implementing major organizational change. Theophille explains how servant leadership can help to create a culture that is ready for change in the future. 
Although "Change management" is not the major topic, this video shows just how deep change must go if you want it to be effective. 
https://www.youtube.com/watch?v=vZ0gave2WJc 
Video: Explaining Kotter's 8-Step Change Model
Kotter's change model is designed to simplify the long and stressful change process, and it helps make the whole process easier for managers. This video outlines all the key steps and tips to implement the best strategies efficiently. His guidance will help in the short-term as well as the long-term changes for you and your organization as a whole.
https://youtu.be/YJ3EGdZ3_pU?feature=shared 
Infographic: Change Management Champion
How to be a change management champion? Everybody wants the answer to this question. Well, MTD's infographic answers just that. This infographic presents the critical tasks needed to implement change effectively.
My favorite is to "encourage" – you must encourage employees to achieve better results. Communication alone is not enough. Guide your employees with the guidance they seek.
Video: Lead and Be the Change
 Change is a large part of everyone's life, and no one believes it's easy. We have to learn how to deal with it and achieve it in the most efficient and effective way.
TED Talks are a great way to learn from professionals. In this great video, Mark Mueller-Eberstein discusses the 'Theory of Transition,' where we deal with the emotions of denial, anxiety, fear, confusion, etc. This eventually leads us to discover new opportunities in the transition, where we begin to be excited and strive for change for ourselves and everyone around us. This transition is unique, and one must first identify the vision and clearly impact, communicate, team up, and lead to achieve their change goal.
https://www.youtube.com/watch?v=yv-QiSvuLLM
Infographic: Management vs Leadership
Some think managers and leaders are one and the same, but while they both occupy positions of power, their key roles are different.
Managers are more fixed, focusing on the task at hand until it is complete and measuring results in terms of efficiency. Leaders are more flexible, focusing on inspiring, empowering, and satisfying the group.
Managers are usually appointed, while leaders tend to emerge naturally.
This infographic reminds us that not every leader is a manager, but every manager has to show leadership.
Video: 6 Keys to Leading Positive Change
This video with Rosabeth Moss Kanter demonstrates six key ways to lead positive change.
They include the following: show up – if you don't, nothing will happen. Speak up and use the power of voice, look up, team up, never give up, and lift others.
Another great TED Talk video to help learn from the experts.
https://www.youtube.com/watch?v=owU5aTNPJbs
Infographic: Preparing for Workplace Change Management
This infographic by knoll.com simply represents a start-to-finish process for helping employees adapt to workplace change management. The timeline guides your organization through change in the easiest way and ensures the least chance of resistance.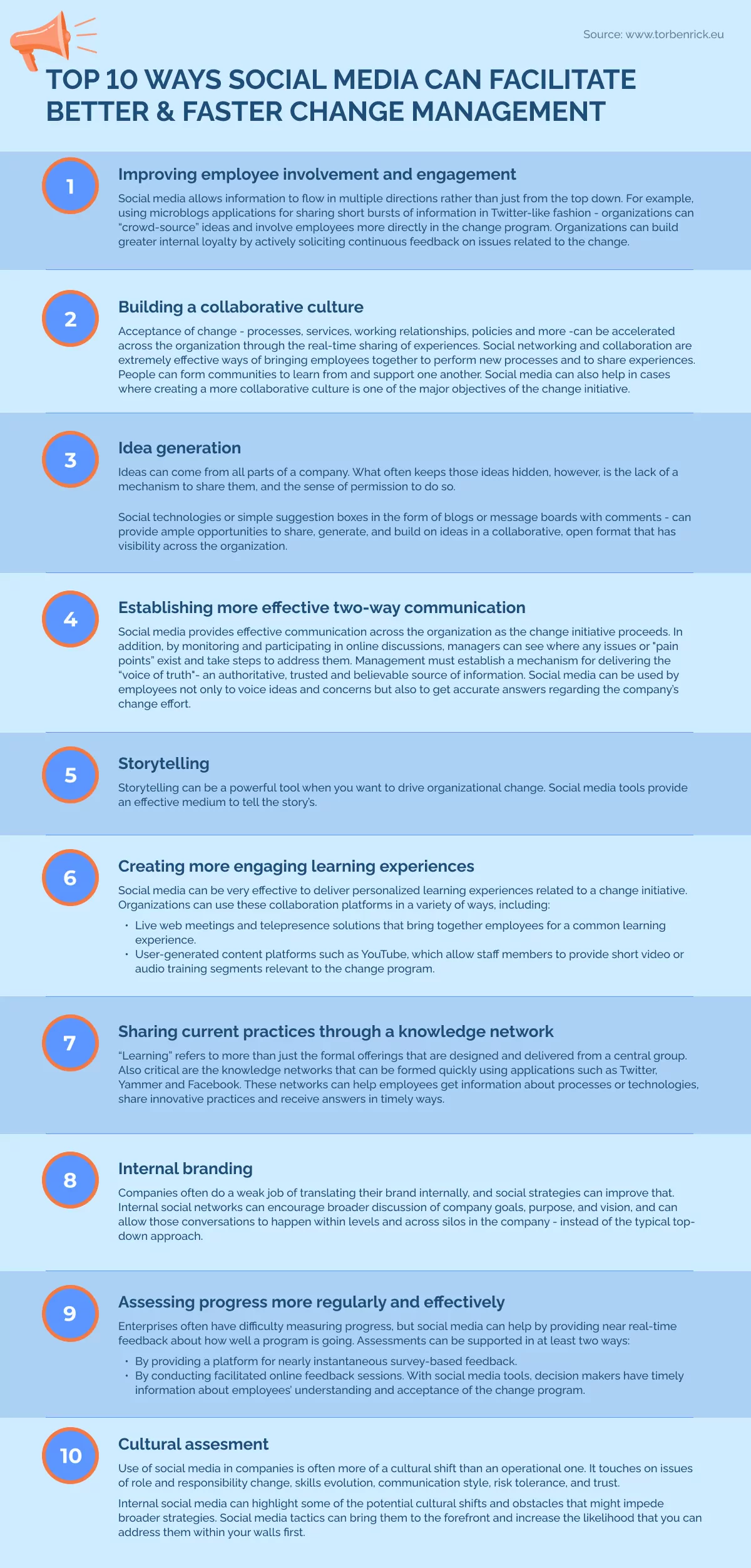 So you've had ten infographics that directly support education for change. But there's time for another – which shows how social media can support the change management process. 
This infographic by Torben Rick puts the aspects of social media and change management together to point out its usefulness as a tool to promote and monitor change processes.
Ten top ways social media can improve your change management process. You will be surprised at helpful these can be!
Thoughts For The Future 
Video won't solve all your change management problems: complex transitions are complex. Nothing can change that! 
However, simple and clear videos can support your business strategy in vital ways. Whether you're trying to get the C-suite leadership up to speed for creating a change management plan or simply managing change on the ground, a video might just be the missing link. 
So if you're struggling with effective change management, see if your staff can benefit from the lessons in videos and infographics. 

WalkMe spearheaded the Digital Adoption Platform (DAP) for associations to use the maximum capacity of their advanced resources. Utilizing man-made consciousness, AI, and context-oriented direction, WalkMe adds a powerful UI layer to raise the computerized proficiency, everything being equal.